North Mesopotamian Jewellery
during the Third Millennium B.C.
Some Considerations
Fabrice De Backer
Thesis submitted to obtain the degree of Master of Arts in
Eastern Mediterranean Archaeology
Academiejaar: 2004-2005
Katholieke Universiteit Leuven
Supervisor: Prof. J. Bretschneider
Métaux qui donnez à ma jeune chevelure
Une splendeur fatale et sa massive allure
Stéphane Mallarmé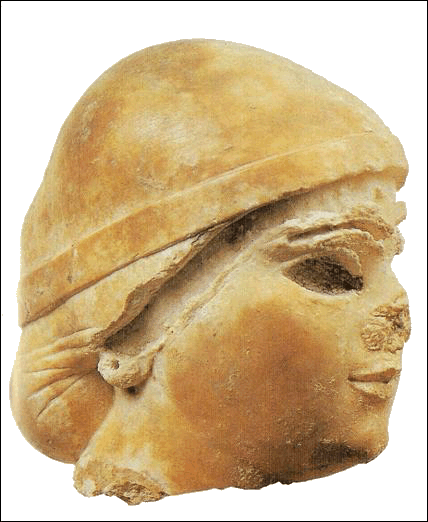 Head of a goddess (?) found in the Temple of Ishtarat at Mari.
Volume I. Catalogue
1. General
2. Problems of the research
3. Cautions to take
a. About the contexts
b. About the objects
c. About the humans
4. Aim of this study
5. Some practical notes
I. Catalogue
Introduction
A. Early Dynastic Period (ca. 2900-2350)
1. Tell Hariri/Mari .
a. Tombs
A) Full Ground
B)Jars
C) Build Tombs
D) Sarcophagi
b. Deposits
c. Hoards
B. Akkadian Period (ca. 2350-2193)
1. Tell Brak/Nagar
a. Tombs
b. Deposits
c. Hoards
C. Ur III Period (ca. 2350-2000 B.C.)
1. Tell Hariri/Mari
a. Tombs
A) Full Ground
B) Jars
C) Build Tombs
D) Sarcophagi
b. Deposits
c. Hoards
2. Tell Brak/Nagar
a. Tombs
b. Deposits
c. Hoards
Volume II Analysis
a. Early Dynastic Period (ca. 2900-2350)
b. Akkadian Period (ca. 2350-2193)
c. Ur III Period (ca. 2193-2000 B.C.)
a. Tombs
b. Deposits
c. Hoards
4. The Functions of the Jewellery
a) as a Precious Material Reserve
b) as a Status Indicator
1) General Symbolization
2) Society Level Indicator
3) Field of Activity Indicator
c) as a Magical Device
d) as an International Contact Agent
III. Conclusion